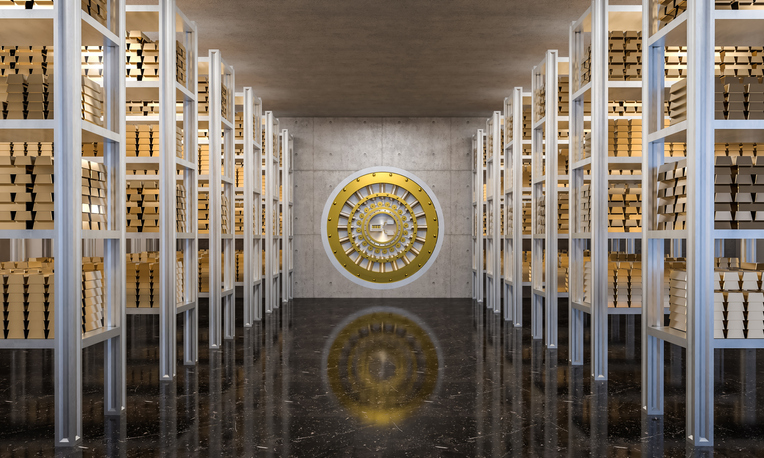 Gold has been used as a form of currency since ancient times, which led to the establishment of the so-called gold standard, commonly used at the end of the 19th century and throughout the 20th century. The gold parity was the first international gold currency system, which allowed participating countries to ensure the value of their paper money and coins by storing equivalent currency values in physical gold. Although the gold standard was ultimately abolished in the 1970s, many nations still hold significant reserves of the yellow metal. Below we explain what gold reserves are, why banks acquire them, and who has the most.
WHAT ARE GOLD RESERVES?
Gold, which is inherently rare, has managed to maintain its intrinsic and sentimental value for over 6,000 years. This precious commodity has served for centuries as a means of securing and storing value, and in modern times is used to guarantee the value of a country's fiat currency. Gold reserves, therefore, refer to a "gold fund" in the form of gold bars and/or bullion coins, held by a government or bank, as opposed to private gold holdings, stored by individuals or non-financial institutions.

WHY DO CENTRAL BANKS BUY GOLD?
1.They buy gold to manage risk and promote stability 
One of the precautionary measures a country can take when markets become unstable is diversification, a risk-reducing strategy that involves building an investment portfolio consisting of a healthy mix of assets that move in different ways. If one asset weakens, the others may remain strong, and vice versa. By diversifying their reserves with gold and other precious metals, central banks can be better prepared to support their country's economic institutions in turbulent times.
2.They buy gold to hedge against a weakening dollar
Central banks also buy gold to diversify away from the US dollar and dollar-denominated assets, as gold has historically had a negative correlation with the dollar.
3.They buy gold as a hedge against inflation
Central banks are engaged in a delicate balance. On one hand, they can stimulate the economy to encourage growth. On the other hand, they can overstimulate the economy and cause rapid inflation.
4.They buy gold because they are uncertain about each other
If central banks truly had confidence in each other, that is, in paper money, they would get rid of all the gold in their vaults, sell it at high prices, and convert the proceeds into dollars, euros, yen, or other currencies. Instead, they hold on to gold as something safe and trustworthy.
GOLD RESERVES – WHAT FUNCTION DO THEY SERVE?
As mentioned above, gold reserves are gold held by a country's central bank to support the value of its national currency, and during the gold standard era, they were used to guarantee the redemption of promises to pay depositors, banknote holders, and trading partners. The most obvious function of gold, therefore, is to protect a country's economy; to protect against rising living costs caused by inflation and to secure the value of its currency during times of crisis.
BOOM IN GOLD PURCHASES BY CENTRAL BANKS
In 2010, global central banks switched their position from net gold sellers to net gold buyers, accumulating over 30,000 metric tons (MT) of the yellow metal. World central banks hold over 35,500 metric tons (MT) of gold in their reserves. Most of these reserves were accumulated since 2010 when central banks began a gold-buying frenzy. Previously, central banks were net gold sellers – between 2000-2009 they sold around 4,426 tons of gold. But for over a decade, they have been net buyers, and in 2022, central bank gold reserves are at their highest level since 1990, according to data provided by the World Gold Council (WGC). In 2018, national financial institutions set a 50-year gold purchase record, buying 656 MT of the yellow metal. In 2019, purchases were slightly lower at around 605 MT. 2020 was the second year of declines, with an increase of just 255 MT, which was significantly lower compared to the same period in 2019. The sharp decline was attributed to the rapidly rising gold price – in mid-2020, the value rose to a then-record level of $2,077 per ounce.
TOP TEN COUNTRIES WITH THE LARGEST GOLD RESERVES (IN TONS)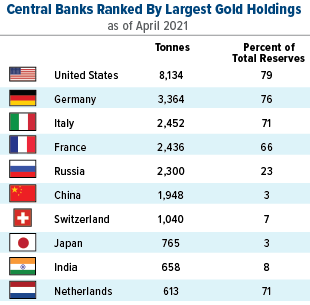 United States – 8,133

Germany – 3,359

Italy – 2,452

France – 2,436

Russia – 2,299

China – 1,948

Switzerland – 1,040

Japan – 846

India – 754

Netherlands – 612
The United States takes first place, having the largest gold reserves in the world – 8,133 tons, which is more than Germany and Italy combined, who rank second and third on the list. The United States also has the largest gold allocation as a percentage of its foreign reserves – about 76%. Most of the American gold is stored in Fort Knox in Kentucky. Many central banks switched from net sellers to net buyers in 2010.
GOLD IN YOUR INVESTMENT PORTFOLIO
At Mint 79 Element, we have been dealing with gold sales for over a decade, constantly enriching our offer and meeting the needs of our customers. In these particular times, when inflation in Poland has already reached 17.5%, securing your money in gold and silver is primarily taking care of the future for yourself and your family. Therefore, we encourage you to visit our website and also stop by one of our stationary branches, located in Wrocław, Gdańsk, Katowice, Warsaw, and Poznań.
Comments are closed.